We all hear the arguments of both sides of the coin. On one side why we need stronger gun control like other countries in the developed world, and the other of why we need less gun laws on the books. The simple truth is that no matter what side we stand on there will always be an inkling to be swayed to what we believe regardless of the facts, and this is very dangerous and irrational. Equally as much there are always those who make each side look like complete idiots. How do we navigate through the hyperbole to find the truth and facts? It only takes a little research from respectable sources, and the answers will amaze you.
Why is it a tale of two cities when there are so many cities within the United States? It's an easy and valid way to show the vast differences with all the facts. We will look at Kennesaw, GA and Chicago, IL which both cities at one time or another have been plagued with the worst violent crime per 100,000 residents, but both cities have taken different steps to find a solution.
I also want to highlight the fact that Chicago has been trying to fight crime for a long time, and they have in the last 20 years seen an overall decline. Likewise I want to note that the size of these 2 cities population is vastly different; however, when we look at it per 100,000 residents it paints a clear comparison. Much of what I state can be found in a more detail from "More Guns, Less Crime" written by John Lott, a staunch defender of stronger gun control until the facts literally hit him in the face, and now is one of our strongest ally's in the fight against taking away a right.
Before we get into the meat of this article a little bit of what happened in Chicago before that led to their decision to ban handguns. No, I'm talking about the rise of the "Mob" although this is part of the problem for this city. From 1965 – about 1970 "Chi-town" saw their homicide rate go from about 10 per 100,000 to around 22. The highest homicide rate was 1992-1993 of more than 30 per 100,000. Then a drastic decline until around 2005 where started to rise drastically again.
We must also note that Kennesaw is a suburb outside of Atlanta which in 2012 Atlanta ranked 8th in homicides with a reported 1,379. This same year Chicago ranked 19th with a report 1,045 homicides. Atlanta is just 27.6 miles from Kennesaw (city center to city center), and just outside the Atlanta Metropolitan Area.
This comparison starts in 1981-82 when both cities were plagued with extremely high violent crime rates for their population levels. Chicago outright banned all handguns within the city limits, and Illinois until earlier this year didn't allow a concealed carry permit. On the other hand Kennesaw unanimously passed an ordinance requiring each head of household to own and maintain a gun (which could be opted out). Quickly it was given the moniker of "Gun Town USA", and given dire predictions of "Wild West" showdowns. Yet, something strange happened in both cities the violent crime rate went in 2 different directions. One city continued a sharp rise in violent crime while the other drastically got better. According to the advocates you would assume Chicago would have become the safer one, but you know what they say about assumptions. Kennesaw become the safer city, and not only safer it also became murder free for 25 years. Furthermore, for Kennesaw in 2005 the per capita crime rate actually became drastically lower than in 1981. In 1981 Kennesaw had just 5,242 residents, and a crime rate drastically higher of 4,332 per 100,000 than the national average of 3,899 per 100,000. In 2005, the crime rate was reported at 2,027 per 100,000. Meanwhile, the population has skyrocketed to 28,189 in which you would think the higher the population the higher the crime rate.
In any given year in the last 25 years and beyond Chicago's crime rate usually stayed around 150-180% higher than the national average while Kennesaw's crime rate came in at 100-150% lower than the national average. Let's look at Kennesaw's Violent crime index from 2000-2010.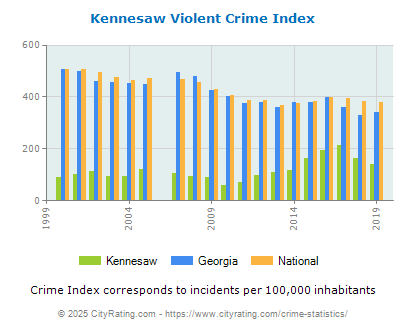 As you can see that that Kennesaw's VCI was actually well below 200 at around 100 give or take while the state of Georgia and National VCI's were at 400 or well over. Also note this is per 100,000, and since Kennesaw's population is well below 100,000 residents it paints an even smaller picture.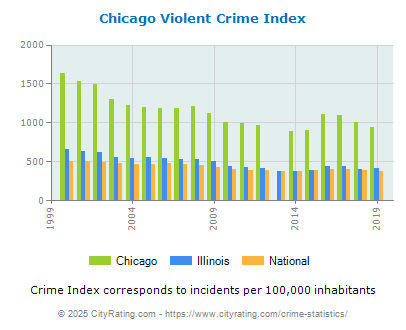 On the flip side of this coin let's look at Chicago where from 2000-2010 the VCI was at 1,000 or well above. Compared to the State and National average which were reported at just above 500 or below, and again per 100,000.
If these statistics remain for 2014 each city is one the track of drastically different painted pictures below…
Chicago, IL:
| 2014 Crime (Projected Data)* | Incidents |
| --- | --- |
| Aggravated Assault | 9,138 |
| Arson | 0 |
| Burglary | 26,088 |
| Forcible Rape | 0 |
| Larceny and Theft | 65,967 |
| Motor Vehicle Theft | 12,312 |
| Murder and Manslaughter | 312 |
| Robbery | 13,256 |
| Crime Rate (Total Incidents) | 158,050 |
| Property Crime | 104,144 |
| Violent Crime | 22706 |
Kennesaw, GA:
| 2014 Crime (Projected Data)* | Incidents |
| --- | --- |
| Aggravated Assault | 19 |
| Arson | 0 |
| Burglary | 146 |
| Forcible Rape | 3 |
| Larceny and Theft | 490 |
| Motor Vehicle Theft | 29 |
| Murder and Manslaughter | 0 |
| Robbery | 11 |
| Crime Rate (Total Incidents) | 680 |
| Property Crime | 665 |
| Violent Crime | 33 |
Can see the picture? Can you see the facts? Can you see why we need facts to counteract the Anti-Gun Lobby? It is a matter of life and death! These are facts that a Tyrannical Government wants to suppress because our Second Amendment stands in the way. I could have even posted facts about violent crimes from other countries that they try to compare us to, but I won't because you won't want to keep reading this article. If you want to do the research you can, and you'll see that our country in comparison is safer with our guns! The VCI for "Gun-free" countries are just as high or higher than ours, and this is why they use the term and statistic of "Gun Crimes" a convenient twisting of facts.
Second Amendment from the Bill of Rights is guaranteed and can not be taken away unless we allow it!
A well regulated militia being necessary to the security of a free state, the right of the people to keep and bear arms shall not be infringed.
We're beginning to see another Tale of two cities with DC, and the most recent city in Colorado that will enact a "Must Carry" law. No matter what we do there will always be those who are afraid of guns, and don't think anyone should own them. While the majority of us who have owned guns most of our adult lives and grew up shooting, we have never had an incident involving a crime with our guns. Since Illinois enacted their concealed carry permit, we have seen record number of permits issued, and an overall decline in crime within Chicago.
Research for this article came from the following links:
http://www.npr.org/templates/story/story.php?storyId=127364768
http://www.wnd.com/2007/04/41196/
http://images.politico.com/global/2013/12/15/48yearsofcrime_final_ispsworkingpaper023.pdf
http://www.cityrating.com/crime-statistics/illinois/chicago.html
http://www.cityrating.com/crime-statistics/georgia/kennesaw.html